While it is pretty much a given that your successful legal firm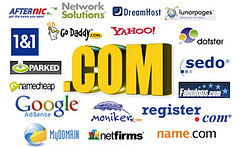 will have its own website, what about the site's most basic, fundamental element—the domain name? Domain names are extremely important, both for SEO and for branding. Top Level Domain names will have .com, .org, or .net as the extension on the end, and, in general are more visible to search engines with these extensions.
There are issues concerning domain names that can seriously affect lawyer advertising rules as well and Lawyer Success, Inc., has over a decade of experience and understanding of SEO and lawyer advertising rules. We know exactly how to provide you with excellent advice, recommendations and strategies on choosing the domain name which will be ideally suited to your law firm's individual needs.
Advice and Strategy
At Lawyer Success, Inc. we can provide you with the keyword research which will enable you to successfully identify and select the very best possible domain name. Additionally, we have the resources to go out and purchase high quality domains or we can negotiate the pricing for your firm on a really high value legal domain center. Equally, if you choose to spend less and purchase a $7 or $8 domain name from someone like godaddy.com, we can give you the benefit of our experience and strategy to help you choose wisely. Keyword-rich domains are especially valuable if they both accurately reflect the practice area and geographic location of your services and if the phrase is one people type into their search engines.
Purchasing
If you choose to go for a keyword-rich domain name, be aware that concise, accurate domains are becoming harder and harder to procure. Ideally, you will look for a domain name that includes your desired search term targets (in the same keyword order, if possible) and is three words or less in length. At Lawyer Success, Inc., our decade of experience in this business gives us a decided edge in helping your purchase your law firm's domain name. If you find a phrase you are especially taken with, which shows a high volume of searches, we can assist you in possibly purchasing it from another party.
Research
We can absolutely locate the ideal domain name for your law firm which will serve your needs most fully for branding and SEO purposes. We have put in the time and done the research required that will enable your website to get higher conversion and click-through from the organic search results in Google. Remember that once you've made your choice of domain name, it is important that you stick to it as aged domains can add a valuable trust factor to the search engines and to your clients. Call (769) 218-6099 immediately to speak with a domain name service specialist who can assist you in choosing the very best domain name for your law practice.