Do you have any idea why existing clients retain you or your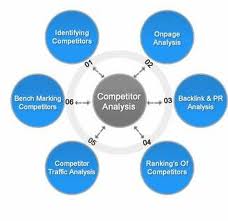 law firm, or what stopped those who did not retain you? Do you know what business issues are driving your client's legal needs, or what "added value" would consist of-- from your client's point of view? Many of our clients call Lawyer Success, Inc., because they observed a dominant player on the Internet in the legal field, and could not fully grasp why this particular competitor was generating such high visibility and traffic.
They know this firm has been extremely successful on the Internet using specific Internet marketing strategy, but don't know why. We currently offer a service called competitor research; we actually go out and scan the Internet, and do the necessary research for you, saving you an incredible amount of time while offering you experience, knowledge, and a comprehensive understanding of exactly what your competitors are doing to achieve such great Internet success.
We will check out your competitor's websites, check their optimization, look at how much content they have, what attorney directories they are positioned on, how many links they have on their websites, and which of those websites we can link from for your website. We will closely observe how their SEO program is working, what their pay-per-click campaign is, what they are bidding on, and what keywords they are targeting for maximum legal website success.
At Lawyer Success, Inc. we will draw upon our extensive experience (over a decade in this business) and will provide you with research that covers such objectives as: new product or service evaluations, in-depth client relationship assessments, new geographic or industry sector market evaluation, and firm market perception and reputation studies. As you can guess, our research on your competitors will save you a tremendous amount of time, allowing you the freedom to focus on your business and your clients.
When our research is complete, we will provide you with a report on your major competitors. Many clients call us and tell us that they don't know who their major competitor really is, or which legal firms are doing the best with their Internet marketing strategies. They want us to find out who these firms are, so they can short-stick their Internet marketing campaign. Competitor research is a great product and service—if you are interested in having competitor research done in your particular market or practice area, give Lawyer Success, Inc. a call at (769) 218-6099. We would be glad to discuss our fees, and explain to you in much greater detail just how competitor research works.